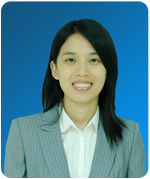 ASSOCIATE PROFESSOR IR. DR. LEO CHOE PENG P.Eng, MIEM
Qualifications:
B.Eng. (UKM), Ph.D. (USM)
Expertise:
Membrane technology, Nanotechnology, Wastewater Treatment and Recovery, Separation and Purification Technology for Food and Beverages Industry
04-5996425

This email address is being protected from spambots. You need JavaScript enabled to view it.
M.U.M. Junaidi, N.N.R. Ahmad, C.P. Leo, H.M. Yee (2016) Near superhydrophobic coating synthesized from rice husk ash: anti-fouling evaluation, Progress in Organic Coating, doi: 10.1016/j.porgcoat.2016.05.018. (ISI IF:2.358)
N. Hamzah, C.P. Leo (2016) Fouling prevention in the membrane distillation of phenolic-rich solution using superhydrophobic PVDF membrane incorporated with TiO2, Separation and Purification Technology, Elsevier, doi: 10.1016/j.seppur.2016.05.005. (ISI IF: 3.091)
N.A. Ahmad, C.P. Leo, M.U.M. Junaidi, A.L. Ahmad (2016) PVDF/PBI membrane incorporated with SAPO-34 zeolite for membrane gas absorption, Journal of Taiwan Institute of Chemical Engineers, Elsevier, doi:10.1016/j.jtice.2016.02.023 (ISI IF: 3.000)
M.C. Law, E.L. Liew, S.L. Chang, Y.S. Chan, C.P. Leo (2016) Modelling microwave heating of discrete samples of oil palm kernels, Applied Thermal Engineering, Elsevier, 98, 702-726. (ISI IF: 2.739)
W.L. Ang, A.W. Mohammad, A. Benamor, N. Hilal, C.P. Leo (2016) Hybrid coagulation-NF membrane process for brackish water treatment: effect of antiscalant on water characteristics and membrane fouling, Desalination, Elsevier, doi:10.1016/j.desal.2016.01.010. (ISI IF: 3.756).

Diafiltration of monoclonal antibody using pH responsive membrane with positive charge, 2016 ACS GCI Pharmaceutical Roundtable Research Grant for Greener Biologics Purification Methods, Dr. Leo Choe Peng, Dr. Ooi Boon Seng, Dr. Low Siew Chun, 1/4/2016-31/3/2017.
CO2 Separation by ionic liquid locked in the mixed matrix membrane, Institute of Climate Change UKM- Yayasan Sime Darby, Dr. Leo Choe Peng, Prof. Dato' Ir. Dr. Abdul Wahab Mohammad, 22/2/2016-21/6/2017.
Flood resilience structures: Superhydrophobic ceramics produced from agricultural ash to engineer flood proof coating, RGS Flood Disaster Managemen, Dr. Leo Choe Peng, Prof. Dr. Abdul Latif Ahmad, Dr. Ir. Yee Hooi Min, 1/4/2015-31/12/2015.

Mohd. Usman Mohd. Junaidi (2016) Polysulfone/SAPO zeolites mixed matrix membranes for CO2 separation from biogas mixture.
Hani Shazwani binti Mohd. Suhaimi (On-going) Mixed matrix membranes incorporated with thermodynamically stable palladium nanoparticles for hydrogen separation.
Nor Aini Ahmad (On-going) Mixed matrix membrane with gas selective fillers for CO2 removal via membrane gas absorption.

Nor Aini Ahmad (2013) Synthesis and characterization of superhydrophobic alumina membrane via chemical and morphological modification.
Yeo Kai Liang (2015) Characterization and ultrasonic assisted hydrolytic extraction of selected Malaysian propolis.
Siti Nadiah Mustafa Kamal (2015) Synthesis of inorganic and polymeric membranes with SAPO-44 zeolites for gas separation.