About Us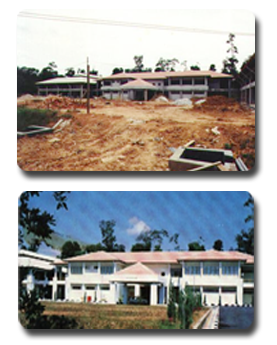 The School of Chemical Engineering ,Universiti Sains Malaysia was established on 1 May, 1992 during the Sixth Malaysian Five-Year Plan (1991-1995). The establishment was intended to fulfill the demand for highly competent professional chemical engineers in the nation's growing chemical process industries and to explore various fields of research in chemical engineering. This ultimately led to 43 undergraduates enrolling in the four years chemical engineering undergraduate programme in 1993. Back then the school was located at Perak Branch Campus in Tronoh. In 1996 the four years undergraduate programme was condensed to three years programme under the pressing demand of trained engineers in the country. However in year 2000 the four years programme was reintroduced into the engineering study system. In May 2001, the school moved to the new and modern USM Engineering Campus located at Nibong Tebal which is about 50 km from USM Main Campus in Penang Island .
The new school's building accommodate an office, two lecture rooms, six tutorial rooms and other facilities. A computing lab, with over hundred networked sophisticated computers complete with licensed engineering softwares, occupies space on the first floor of the building. Eleven up-to-date laboratories is available for both teaching and research purposes and these laboratories are equipped with modern equipment to cater for the escalating research activities in biotechnology, catalysis/materials studies, thermodynamics, separation technology, and chemical reaction engineering research areas. The laboratories that are designed solely for undergraduate teaching activities are as follows:-
Unit Operation Laboratory
Process Control Laboratory
Chemistry Laboratory
Meanwhile there are several laboratories used for both teaching and research namely:-
Analytical Laboratory
Environmental Control Laboratory
Petroleum and Gas Laboratory
Besides these, the school also provides special laboratories for postgraduate students to carry out their research work as follows: -
Bioprocess Engineering Research Laboratory
Environmental and Separation Process Research Laboratory
Reaction Engineering Research Laboratory
Thermodynamics Laboratory
Biochemical Laboratory
Today, the School of Chemical Engineering is one of the leading institution in the country offering both undergraduate and graduate programmes in chemical engineering. Our student population are currently totalled to about 352 undergraduates and more than 50 postgraduates. The school enjoy the privileges of attracting many international postgraduate students from countries worldwide. Since its founding, the School of Chemical Engineering has been graduating 867 graduate engineers and 100 plus postgraduate holders. The school's growth reflects the excellence of the undergraduate and postgraduate programmes offered and the expertise of its staff.
It is the mission of the school of chemical engineering at Universiti Sains Malaysia to provide education and research that are of high quality so as to produce chemical engineering graduates who would be well-trained in chemical engineering knowledge in addition to developing their personal potential, abilities and skills in critical and innovative thinking, problem solving and life-long learning. The school aims to produce graduates who would become leaders and/or entrepreneurs in the current global society and be able to meet technological and societal expectations.