USM Students Win 2nd Place in NACES 2015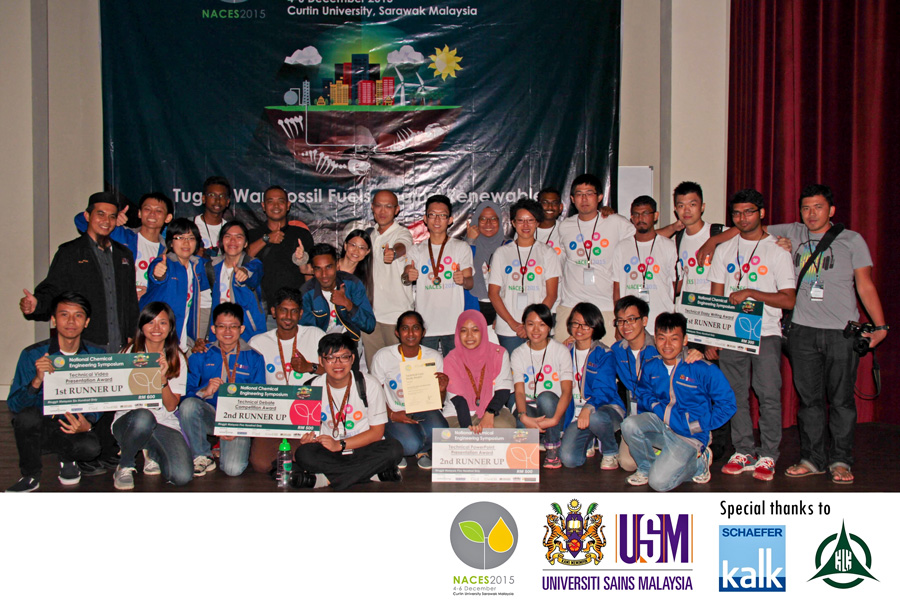 Universiti Sains Malaysia (USM) has secured a second place overall in the National Chemical Engineering Symposium (NACES) 2015, hosted by Curtin University, Sarawak.
NACES is an annual, national level event organised by Chemical Engineering Student Society of Universities in Malaysia in collaboration with Chemical Engineering departments of all respected universities in Malaysia and Institution of Chemical Engineers (IChemE) of Malaysia. This three-day symposium is hosted every year by rotation among public and private universities in Malaysia that offer chemical engineering programme. The theme for NACES 2015 was "Tug of War: Fossil Fuels against Renewables".
NACES serves as a distinguished platform for chemical engineering undergraduates to demonstrate their creative thinking, effective communication and technical knowledge in generating innovative solutions for global development issues and challenges. It provides a premier opportunity to enhance the integration and networking of all chemical engineering undergraduates in Malaysia and exposes them to the realm of the profession. At the same time, the symposium also promotes the significance of professional engineering practices and sustainability awareness in support of the social and economic development.
More than 250 students from 17 universities from Indonesia, Malaysia and Singapore attended NACES 2015. School of Chemical Engineering (SCE) USM sent in a strong contingent of 26 students participating in all seven categories of competition in a quest to secure a third consecutive win. SCE would like to extend a heart-felt thank you to Kuala Lumpur Kepong Berhad and Schaefer Kalk (Malaysia) Sdn. Bhd. for their generous contribution which has made our participation possible in this competition.
The overall performance of USM contingent for NACES 2015 is as follows:
Technical Case Study – Champion

Paveethra Bhai a/p Murugan

Technical Case Study – 1st Runner-up

Nur Amirah Hani Binti Mohd Azmi

Technical Video Presentation – 1st Runner-up

Tan Yee Ling
Nurkhairil Azhar Bin Hashim

Technical Essay Writing – 1st Runner-up

Vasyanthan a/l Pandiyan

Technical PowerPoint Presentation – 2nd Runner-up

Quah Jia Xin
Dhivian a/l T.Nithiaselvan
Nur Dina Binti Zaulkiflee
Chan Chuh Yiing

Technical Debate Competition – 2nd Runner-up

Chin Wai Sing
Dharishaan a/l Vengadesan
Kee Li En