School of Chemical Engineering Chem-E-Car Competition 2012

The School of Chemical Engineering under its student's society, (CheSS) had successfully held the internal Chem-E-Car Competition on the 7th of March 2012. The competition, which was considered as one of the School's annual events took part at the Main Hall of the Engineering Campus, Universiti Sains Malaysia with the highest participation ever, since it was first introduced nearly 5 years ago.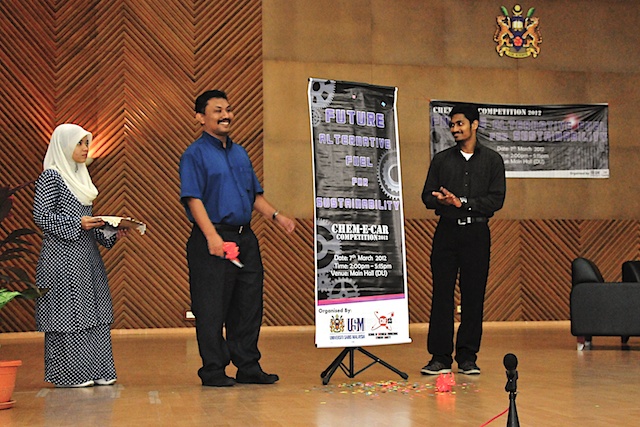 8 groups tried their luck to get the best trial runs for the car category. The event officially opened by the Deputy Dean (Academic and Student Affairs), Associate Professor Dr. Mohamad Zailani Abu Bakar had attracted mostly the Third Year Chemical Engineering undergraduate students with a couple of groups from the Second Year. The event had attracted for the first time a participant from the School of Materials and Mineral Resources Engineering, Mr. Mohd Razin Mohd Radzi whom together with his team, Elechem, won Second place for best trial run. The best team took home RM200 was Challenging, which consists of Wong Kuan Hwa, Leong Ann Tsun, Eng Yi Wen and Toe Cui Ying. There was also a category based on slide presentation where teams need to promote their cars according to the given criteria. The team led by Meor Muhammad Hafiz Shah Buddin together with his colleagues, Md Rafee Bachok, Mohd Nazrul Izat Mohd Khir and Muhammad Razif Bin Abdul Razak won the best presentation category. The winning team of the car category will represent Universiti Sains Malaysia and in particular, the School of Chemical Engineering for the National Chem-E-Car Challenge which will be held at the Universiti Malaysia Sabah this coming April…ALL THE BEST to the teams!!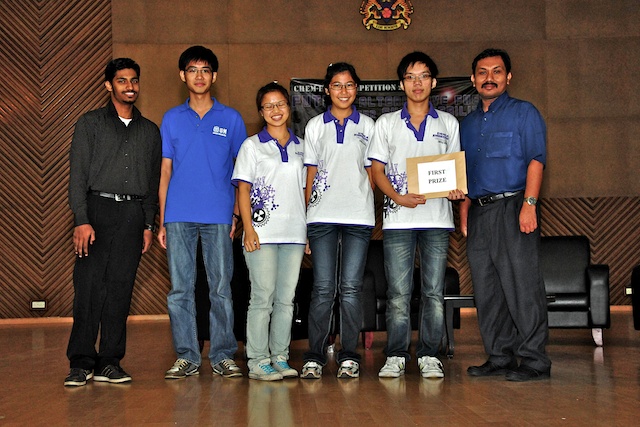 The management of the School of Chemical Engineering would like to thank the Director of the 2012 Chem-E-Car Competition, Mr. Mohamed Azeem Abdul Majed and his comrades for the successful event, and it is hoped that the next Chem-E-Car will be as attractive as this year's competition. WELL DONE!