USM's Chemical Engineering Soars 46th in the Quacquarelli Symonds (QS) 2016 World University Rankings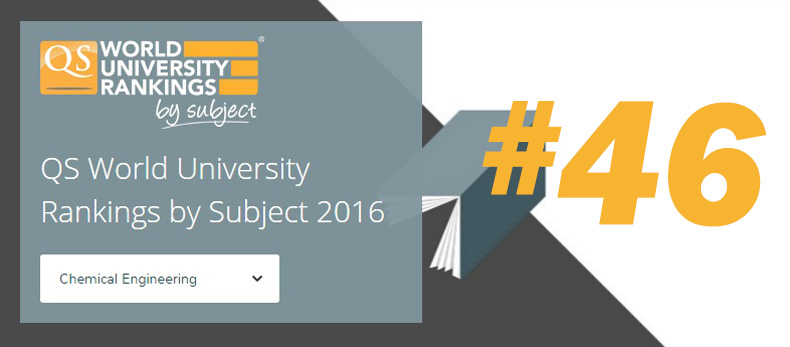 The Quacquarelli Symonds World University Rankings has named USM's Chemical Engineering at number 46 within the subject ranking in their recent report published in March. USM's Vice Chancellor, Professor Dato' Dr. Omar Osman said that from its 40 program of studies within the university, 39 of them have been evaluated by the QS auditors and 22 programs have now been placed within the 200-300 best program of studies in the world. Out of these programs, 9 have been ranked in the top 100 with 1 program achieved top 50 among other world renowned universities.
In 2013, Chemical Engineering for the first time achieved 38th of the same subject ranking with other years maintained within the top 100 since 2011. Such an achievement has placed Chemical Engineering program offered by Universiti Sains Malaysia one of the highly sought after engineering programs by the undergraduates and postgraduates alike.

The School of Chemical Engineering is well-known for its research intensive department right from when it was first started in 1992. From its humble beginnings, which began in the Perak Branch Campus in Tronoh, the School strives to be the best engineering department in the country. The tradition of research and innovation practised among the academic staff has also been embraced by the students reading first degree in chemical engineering as well as the postgraduates, whom prolific in publishing their research works of the world class standard.

In a recent press conference in Putrajaya, the Minister of Higher Education, Dato' Seri Idris Jusoh in one of his statements said that the achievement is the evidence of hard work, commitment and dedication of the lecturers and researchers, together with other higher education community as a whole. He also hoped that the innovation made by the universities would bring positive impact towards sustainable development to the local and international societies in total.

The School of Chemical Engineering would like to thank the current students, alumni, staff and the management of the university for the support and help all these years for once again positioning us in the eyes of the world!
Related articles :
http://news.usm.my/index.php/berita-mutakhir/3524-prestasi-penarafan-qs-melonjak-nc-seru-semua-tingkatkan-kecemerlangan
Text : A.P. Dr. Mohamad Hekarl Uzir