USM Rangkul Dua Emas di Geneva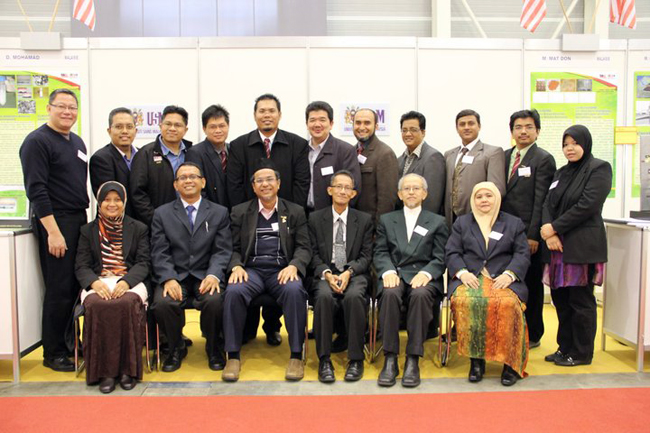 PULAU PINANG, 22 Apr –Delegasi penyelidik Universiti Sains Malaysia berjaya membawa pulang dua pingat emas dan satu anugerah khas dalam pertandingan penyelidikan antarabangsa, 39th International Exhibition Of Inventions di Geneva, Switzerland, baru-baru ini.
Selain emas, USM turut berjaya membawa pulang enam perak dalam pertandingan yang turut disertai oleh 45 negara dengan 765 produk penyelidikan meliputi beberapa kategori utama termasuk agrikultur, pemeliharaan alam sekitar, makanan, perubatan dan sebagainya.
Emas USM disumbangkan oleh Prof. Madya Dr. Mashitah Mat Don melalui produk penyelidikan beliau, PycnoSORB:Green Biosorbent for Heavy Metal Removal, yang turut dipilih menerima anugerah khas rekacipta terbaik oleh First Institute Inventors and Researchers in I.R.IRAN (FIRI Awards).
Prof. Madya Dr. Mohamad Nasir Mohamad Ibrahim turut merangkul emas melalui hasil penyelidikan beliau, ViscoLigno, iaitu formulasi lumpur gerudi yang berupaya mendatangkan manfaat besar dalam industri penggerudian.
Turut tersenarai menyumbang pingat buat USM (perak) ialah Prof. Dr. Ahmad Fauzi Mohd Noor (NanoMgFe Soft Magnetic Ferrite for Microwave Frequency Range Application), Prof. Saringat Baie (c.skinfix: Haruan Spray for Burns & Wound), dan Dr. Sharom Mahmud (Nano-UV Coating for Umbrellas, Shades & Textiles with near Zero UV Transmission).
Selian itu, turut tersenarai ialah Dr. Dasmawati Mohamad (KeLFiL: Aesthetic Anterior Nanocomposite), Prof. Madya Dr. Wan Faisham Numan Wan Ismail (PELLES@ USM:Portable ExpandibleLower Limb Emergency Splint) dan Dr. Amin Malik Shah Abd Majid (Cansuffive).