USM ChemE Trio Triumphs at NRIC 2011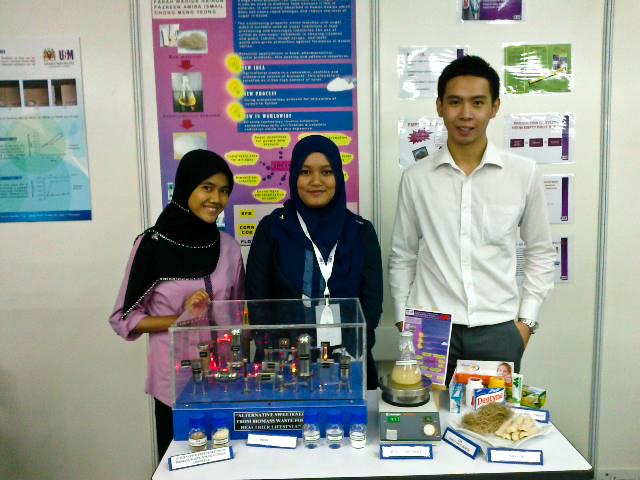 Penang, 27 June – A young trio of researchers from the School of Chemical Engineering, Universiti Sains Malaysia, has made the school and the university proud when their research product won the Best Research Award at the National Research and Innovation Competition (NRIC) 2011.
The product, Alternative Sweetener from Biomass Waste for Healthier Lifestyle, was judged to be the sweetest of all among the 13 other products that won gold at the competition.
The young trio of Farahwahida Haron, 23; Fazreen Amira Ismail, 23 and Chong Meng Yeong, 24 were beaming with excitement and pride when their hard work and innovation were rewarded and recognized as beneficial to the society at large.
According to Farrahwahida, she and her group members did not expect their product to win the Best Research Award category since the competition this year at NRIC 2011 was deemed to be very strong with more than 120 research products vying for the top award.
The win, however, proved that the effort to focus research on sustainability-related issues is very relevant and appropriate to the pursuit of healthier living and sustainable development.
Farrahwahida added that, "We carried out the research to produce an alternative sweetener or xylitol from palm oil or corn waste because sweeteners are widely used in diverse products such as chewing gum and toothpaste."
"Xylitol is also used by diabetics but the type that is being sold at the current market is rather expensive. With our product, we may be able to produce an alternative that is far cheaper besides optimising waste that is generated locally."
Farrahwahida and her colleagues received RM 5,000 and a trophy together with certificates and gifts from USM's Deputy Vice Chancellor for Student Affairs and Development, Prof. Dato' Omar Osman.
Another young trio from the School of Chemical Engineering also won gold at NRIC 2011. Lidya Amira Zukimi, Yeap Swee Pin and Nur Amirah Mohd Ali, who were former undergraduate students of the School, have successfully integrated nano engineering ideas with tissue engineering concepts to come up with Functionalized Multi-Walled Carbon Nanotubes/Poly Lactic Acid Nanocomposite Scaffolds for Tissue Engineering that have great potential in solving problems of bone fractures and bone cancer.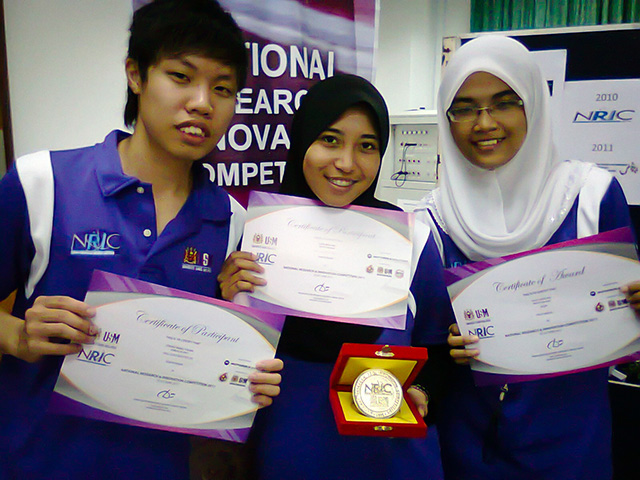 During the four-day NRIC event, the fifth edition of the competition saw 121 research products competing including five international entries from universities in Brunei, Singapore and Thailand. Of the 121 entries, 13 won gold, 24 silver and 31 bronze.
Organized with a theme of World Class Research and Innovation for Tomorrow's Sustainability, NRIC 2011 provides a golden opportunity for the best research products to be chosen to represent Malaysia at international competitions such as the upcoming British Invention Show.
Related article : www.usm.my