USM's researchers, publications, shine at the Malaysia Rising Star Award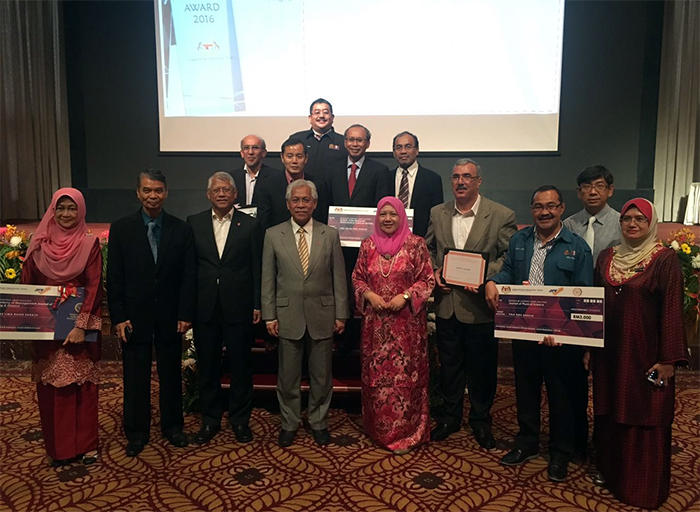 Image source
GEORGE TOWN: Three research scientists from Universiti Sains Malaysia (USM) were honoured at the prestigious Malaysia's Rising Star Award 2016 in various categories at a ceremony in Putrajaya today.
The trio are Professor Dr. Bassim H. Hameed, from the USM School of Chemical Engineering, named by Clarivate Analytics as Amongst the World's Most Influential Scientific Minds 2015 (category of Malaysia's Most Cited Researcher); Professor Dr. Lee Keat Teong, also from the USM School of Chemical Engineering, (category of Young Researcher); and Professor Dr. Wan Saime Wan Ngah, from the USM School of Chemical Sciences, (in the category of Highly-Cited Review).
Minister of Higher Education, Datuk Seri Idris Jusoh, presented the awards to the three recipients.
Bassim said he was honoured to be recognised for his research work and contributions in the fields of Chemical Engineering and Environmental Science and Engineering.
"I wish to express my sincere appreciation to the Ministry of Higher Education, the Ministry of Science, Technology and Innovation, and USM for fully supporting me and my research group, especially in providing us with various funds for our research work throughout my 17 years with USM," said Bassim, who is from Iraq.
He said the recognition would surely spur him to work even harder and contribute more to USM and Malaysia, especially in providing solutions to environmental issues.
Bassim offered advice to junior researchers, urging them to focus on conducting good research that is relevant to global issues, such as the environment, climate change and energy resources, and not to research based solely on personal interests.
"(You) should also plan well in (your) research, set attainable milestones objectively, and most importantly, publish results and research findings in the top ISI-indexed journals in (your) field," he said.
To date, Bassim has published more than 215 articles in ISI-indexed journals, with more than 75 per cent of these articles ranked in the top 15 per cent in the field. He has also published over 100 articles in other international and national journals and proceedings.
Bassim has been included by Thomson Reuters in their prestigious list of Highly-Cited Researchers 2014 and 2015, as well as being listed in Thomson Reuters's "The World's Most Influential Scientific Minds 2014 and 2015".
Meanwhile, Lee, who is the Director of USM's Research Creativity and Management Office (RCMO) and also Director of the USM International Collaborations Office, said he hoped his achievement will serve as motivation for other young researchers at USM.
"As researchers, we need to always look at the positive side and be more creative and innovative in conducting our research work, to get the best results out of the resources and facilities made available, especially in the current unfavourable economic situation.
"I like what USM vice-chancellor Professor Datuk Dr. Asma Ismail has been advocating since the day she came in, which is to 'co-learn' with fellow colleagues and collaborators all over the world, and to be more creative and innovative in carrying out a research project," Lee said.
He added that the USM management, including the vice-chancellor, deputy vice-chancellors and deans, have been very supportive in creating an ambience that allowed him and his research team to achieve their goals.
When asked about his greatest challenge after this, Lee said that he hopes to translate his research achievements into something useful that can benefit industry and society.
Lee is currently working on deriving renewable energy from algae, which he hopes will become an alternative to fossil fuels.
Lee was also recently listed as one of the four Most-Cited Researchers in the Shanghai Academic Ranking of World Universities 2016 by Subjects, in the field of Energy Science and Engineering.
Meanwhile, six journals from USM Press were awarded the Latest Researcher Award (CREAM) status by the Malaysian Ministry of Higher Education at the same function.
The journals published by USM Press were selected for acknowledgement under the CREAM status, in accordance with a programme by the ministry.
According to the Director of USM Press, Akhiar Salleh, this recognition serves to encourage efforts to raise the quality of research and publication of scholarly journals in Malaysia, which involves various local journal publishers.
"USM Press is always making improvements in the publication of journals, from aspects of abiding by the publication date, and ensuring that the quality of articles selected would undergo a strict evaluation process, to publishing journals which adhere to international standards, and increasing the added values of publications through the latest publication methods.
"In addition, technology such as the Search Engine Optimisation (SEO) is fully utilised to increase the 'visibility' of the journals," Akhiar said.
The journals published by Penerbit USM are the Bulletin of the Malaysian Mathematical Sciences Society - Editor-in-Chief: Professor Dato' Dr. Rosihan M. Ali (the Journal in Web of Science category); Asian Academy of Management Journal of Accounting and Finance - Editor-in-Chief: Professor Dato' Dr. Ruhani Ali, and International Journal of Asia-Pacific Studies - Editor in-Chief: Professor Dr. Ooi Keat Gin (for the Journal in SCOPUS category); while the Journal of Construction in Developing Countries - Editor in-Chief: Professor Dr. Abdul Rashid Abdul Aziz, Journal of Physical Sciences - Editor in-Chief: Professor Dr. Abdul Latif Ahmad, and the Malaysian Journal of Medical Sciences - Editor in-Chief: Professor Dato' Dr. Jafri Malin Abdullah, for the Potential Journal category.

Original article: http://www.nst.com.my/news/2016/11/185094/usms-researchers-publications-shine-malaysia-rising-star-award