USM's Chemical Engineering has once again improved its performance to be ranked world's 38th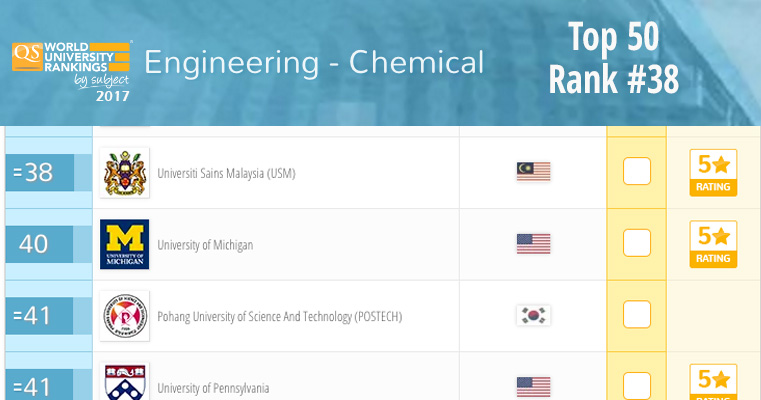 8 March 2017, The School of Chemical Engineering, Universiti Sains Malaysia has once again soared from its 46th ranking in 2016 to number 38 in the world this year. This marked the second time the School received the same ranking by the prestigious Quacquarelli Symonds World University Rankings. The first was in 2013.
The School's management would like to thank particularly the academic staff who have continuously contributed to the university, in terms of research grants, both local and international, quality publications as well as registered patents as parts of their research findings.
Not to forget all the postgraduate students whom from their hard work and perseverance, came up with world class research, which resulted into the world class publications. Last but not least, the supporting staff who never got tired of assisting the students and academics with ever increasing tasks and projects.
The School is very much hope that the tradition of research and innovation will continue among the individuals within the faculty so that we could be among the best institutions in the world in years to come.
link :
https://www.topuniversities.com
https://news.usm.my/index.php/english-news/4762-usm-soars-towards-excellence-usm-style