USM Signs MoA to Bridge Future Needs with Osaka University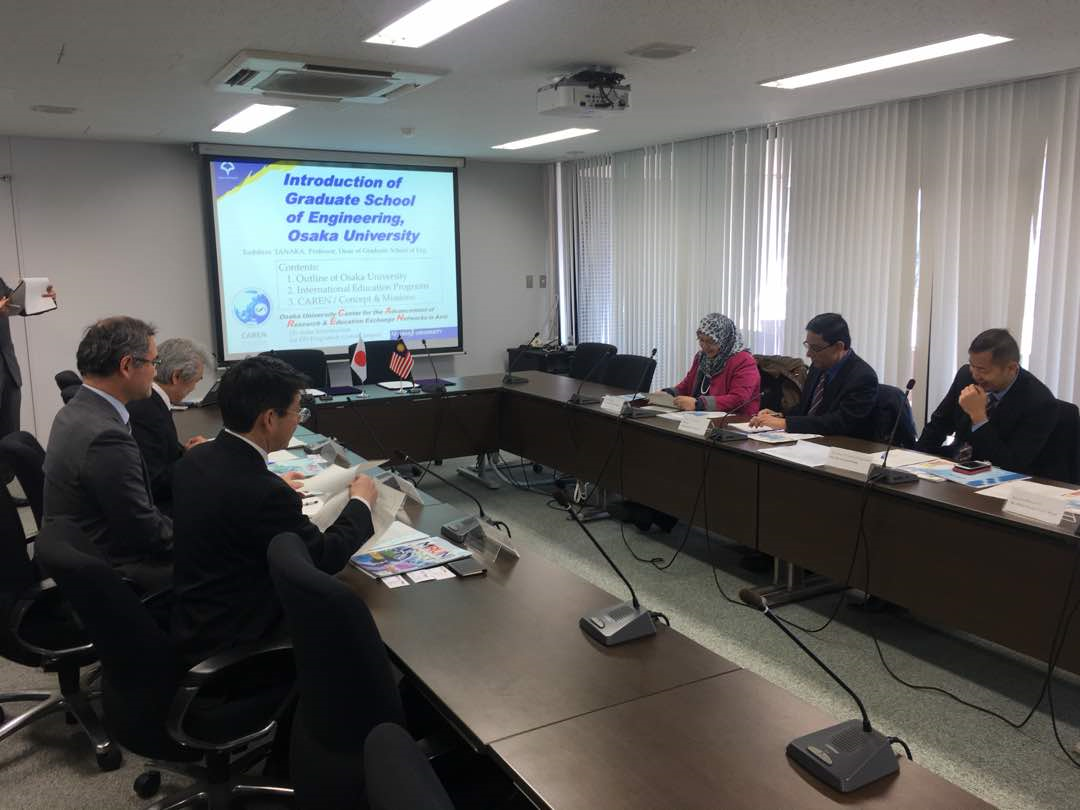 OSAKA, JAPAN, 5 February 2018 – "Times are now changing, and we now have a concept called 'Academia and Industry are one'," said the Universiti Sains Malaysia (USM) Vice-Chancellor, Professor Datuk Dr. Asma Ismail during her working visit to Japan recently.
"It is good that universities and industries can learn together and create research chairs as these partnerships have become especially relevant in addressing many of the 21st century challenges to advancing research, innovation and technological development."
Asma was speaking at the Memorandum of Agreement (MoA) Signing Ceremony on the collaboration between USM and Osaka University Graduate School of Engineering here today.
"USM is looking forward to conduct the programme with Osaka University, which would be preceded with the offering of a double degree as a step forward, with later options to be considered including to offer joint-degrees and dual degrees," she added.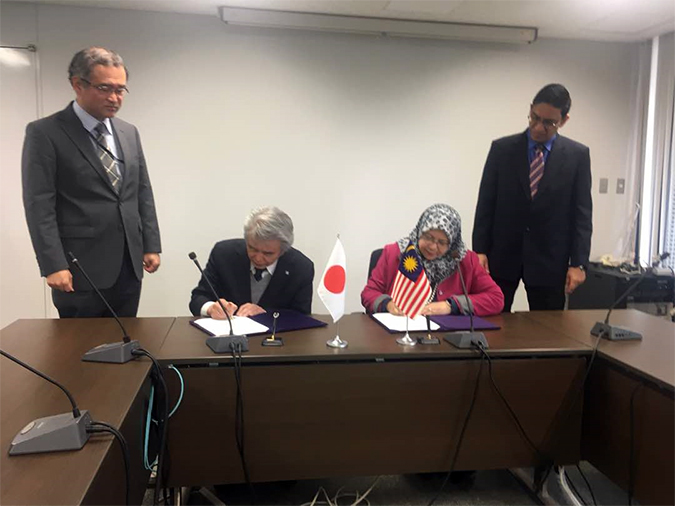 The MoA is an expansion of the initiative that was started in 2006 in the area of nanoscience by Professor Ir. Dr. Abdul Rahman Mohamed, Professor Tadashi Itoh and Professor Yoshitada Morikawa.
Asma also stressed on the importance of the knowledge in both Engineering and Economics for the future, as the future does not provide guarantees in providing jobs, thus the need for up-and-coming engineers to be job creators and not merely job seekers.
"Engineers too need to be more creative, innovative and having an entrepreneurial mindset for them to form their own companies or industries in the future, at the same time being receptive to opportunities to set up businesses and to provide solutions," she added.
Asma lauded the idea of the Frontier Lab Programme at Osaka University, where students, even undergraduates can learn and gain hands-on experience with the technologies available.
Through the signing of the MoA, she also welcomed the Graduate School into the concept of a Global Campus, with the collaborations involved.
Asma who regarded the collaboration as a long-term soft power investment added, "Through the MoA, it can allow the expansion of collaboration between different Professors in different areas of Engineering."
"It is where those trained at the university also could become alumni members of each respective university, and as and when they become the Deans or Heads of Departments, send students to their former universities. When there are students who will become alumni members of both universities, it would facilitate the involvement into emerging economies in the future," she further said.
Asma reminded that Southeast Asia would rise and become an emerging economy in the future, and therefore the Japanese engineers need to know and understand the culture of the people and the way they think. This would assist them in creating more practical innovations and provide suitable solutions to the people there.
She also mentioned that USM has readied the space for Japanese universities and industries to work on campus, at the 6-storey building provided by TORAY Industries. There are also 'incubator' spaces to work on concepts to produce innovations or spin-off companies by students or those who are entrepreneurial-minded.
Also present at the ceremony were Professor Ir. Dr. Abdul Rahman Mohamed, USM Deputy Vice-Chancellor (Industry and Community Network); Professor Toshihiro Tanaka, Dean, Graduate School of Engineering; Professor Yoshitada Morikawa, Division of Precision Science & Technology and Applied Physics; Professor Kiyoshi Fujita, Director, Centre for International Affairs; Professor Tadashi Itoh and key university officials.