News Conference: Chemical Engineering Programme At USM Gets IChemE Accreditation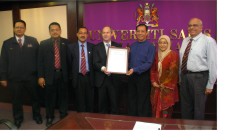 PENANG, March 4 (Bernama) -- Universiti Sains Malaysia (USM)'s Chemical Engineering Education Programme has received international recognition by being accredited by the Institute of Chemical Engineers (IchemE).
USM vice-chancellor, Tan Sri Dzulkifli Abdul Razak, said the university was the first in Malaysia to have the Chemical Engineering accreditation from IchmeE for a five-year period.
"The accreditation represents USM's successes in placing itself in the group of universities that is recognised by IchemE at the level of Bachelor of Engineering in Chemical Engineering," he said at a news conference here today.
IchemE is a prestigious world body that has a membership about 120 countries.
Tan Sri Dzulkifli said the IchemE accreditation is high recognition that is not easy to get until all criterions are met.

-- BERNAMA (original post)