The 5th Chem-E-Car Competition 2010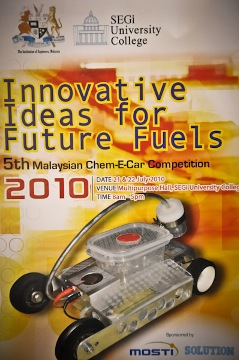 This year, the Chem-E-Car competition was successfully organised by the Institute of Engineers, Malaysia and held in SEGi University College, Kota Damansara, Petaling Jaya. The 2-day event was officiated by the Deputy Minister from the Ministry of Science, Technology and Innovation, Y. B. Tuan Haji Fadillah Yusof on July 22nd 2010. Universiti Sains Malaysia's School of Chemical Engineering took the opportunity to join this annual event by sending two groups, namely; 4-For-Fighting and Sexy Baby.
This year marked the new era of the national competition where it has seen more participation from private institutions as well as institution from ASEAN region. Universiti Malaysia Sabah made their first debut in this year's Chem-E-Car, representing institution from the East Malaysian region. The National University of Singapore represented the ASEAN countries had also made their first appearance in the 5th annual competition.
There has been a great improvement in this year's, event where new reactions were introduced and creative mechanisms were applied in the design. The Sexy Baby team from the Universiti Sains Malaysia won third place in the poster competition. It is hoped that next year, there will be more participations from the School of Chemical Engineering, USM and therefore, place ourselves on top of the chart!